Epoxy Resin Double Drainer Sink Sizes
A range of single bowl double drainer sinktops that achieve levels of performance and ergonomic efficiency through being moulded as completely homogeneous seamless units.
Sinktops include an integrally moulded central sink with sloping drainers to each side and moulded edging all round. A flat area is provided to the rear of the sink on which to mount any taps required. It is possible to cut and re-edge the sink-units to give a reduced width.
All these sink-units have ribbed drainers and the design of each unit is slightly different.
Please be aware that due to high demand the Epoxy range of sinks are currently on a 4 week lead time.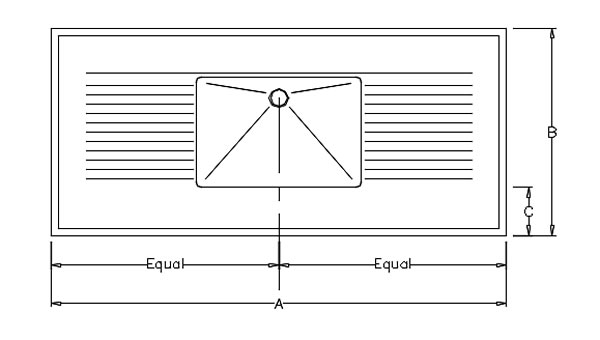 To select a sink from the list below click on the Sink-Unit Code.
| Sink-Unit Code | Length A | Width (Min) B | Width (Max) B | Bowl Position | Sink Bowl Size | Waste Position |
| --- | --- | --- | --- | --- | --- | --- |
| DD1350 | 1350 | 650 | 750 | | 600 x 450 x 250 | rear |
| DD1500 | 1500 | 650 | 750 | 150 | 450 x 365 x 200 | rear |
| DD1500 X | 1500 | 650 | 750 | 100 | 600 x 450 x 250 | rear |
| DD1500 F | 1500 | 650 | 650 | 100 | 450 x 365 x 200 | rear |
| DD1650 | 1650 | 650 | 650 | 120 | 635 x 370 x 270 | rear |