Use the table below and the diagram to the right to find the correct sink size.
To order use the Select an Option drop down, click on the size required and add to basket.
Please tick the box the relevant check boxes if you require Vulcathene waste and/or Legs and Brackets to go with your sink.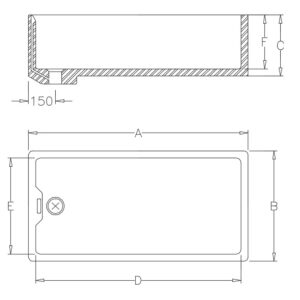 Shaws of Darwin Belfast Sink Dimensions
| Sink Code | A | B | C | D | E | F | Price |
| --- | --- | --- | --- | --- | --- | --- | --- |
| BS01 | 460mm | 380mm | 205mm | 390mm | 310mm | 165mm | £117.58 + VAT |
| BS02 | 535mm | 410mm | 205mm | 465mm | 340mm | 165mm | £145.93 + VAT |
| BS03 | 610mm | 410mm | 205mm | 540mm | 340mm | 165mm | £134.79 + VAT |
| BS04 | 610mm | 420mm | 255mm | 540mm | 340mm | 220mm | £153.79 + VAT |
| BS08 | 595mm | 460mm | 255mm | 540mm | 380mm | 220mm | £126.14 + VAT |
| BS06 | 760mm | 460mm | 255mm | 690mm | 380mm | 220mm | £199.52 + VAT |
| BS07 | 915mm | 460mm | 255mm | 840mm | 380mm | 220mm | £297.67 + VAT |
Shaw's sinks have a lead time of 2 – 4 weeks